A great way to strengthen the health of your employees
Plank Challenge App
Promote your team's health with a body muscle development challenge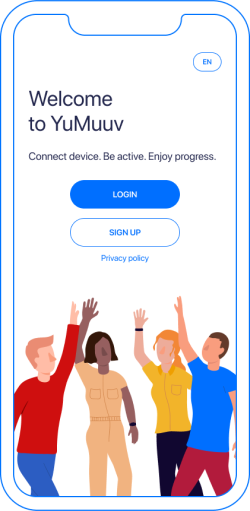 Increase Engagement
Plank Challenge is an exercise that can be adapted to all people, which does not require great athletic form, but gives everyone the opportunity to participate. This increases employee involvement and coherence with the company.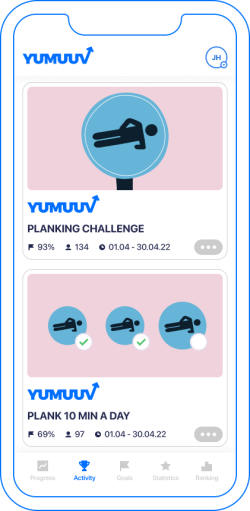 Promote Health
Plank exercise promotion is a clear contribution made by an employer to the health and well-being of its employees. Since the exercise can be done anywhere, it is possible to develop a part of a healthy culture.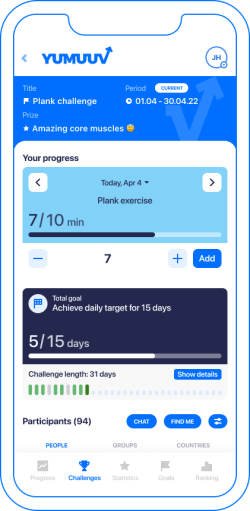 Reduce Morbidity
Studies show that static exercise improves workers' coordination and body awareness. This in turn reduces the risk of various occupational diseases and keeps the team healthy.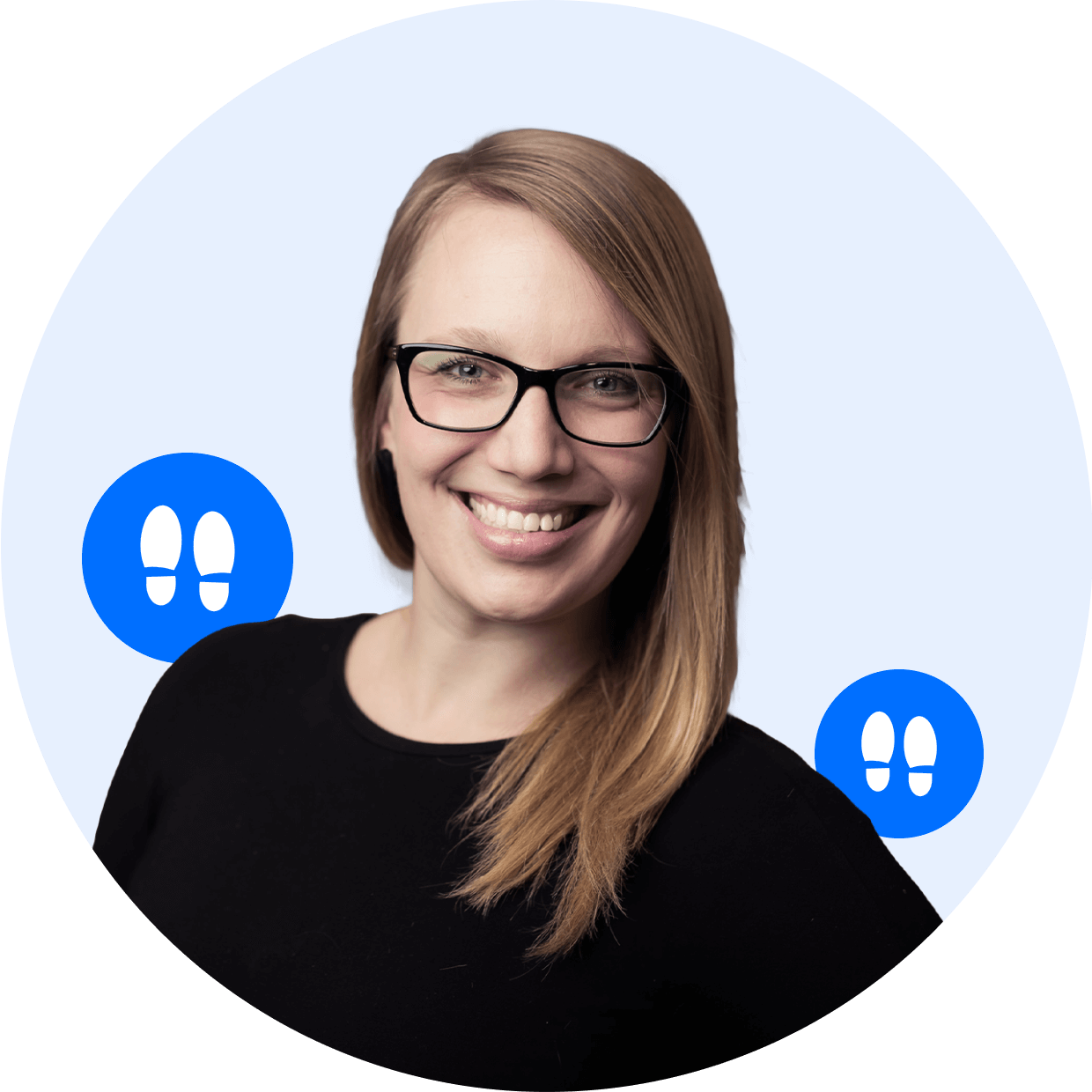 Why have others done it?
"We chose YuMuuv because we wanted to create a challenge, where it's easy to participate."
Katre Trei
Read the case study
5 Reasons to Organize Plank Challenge With YuMuuv
1. Easy To Start
Plank Challenge app is very easy to use. In just a minute, everyone can create a user-created challenge and then participate in a challenge already created by the employer. The YuMuuvi team is fully prepared to help anyone who needs it anywhere.
2. Automated Data Transmission
All users log in for the appropriate number of minutes after each plank exercise. In this way, they see in real time how they are moving closer to the goal set by the employer, as well as how they relate to each other.
3. Motivational Communication
During the Plank challenge, you will be able to share pictures and experiences of the exercise with your colleagues. Humorous memes and visualized experiences are what help increase the motivation of others to take part in the challenge and promote their health.
4. Meaningful Analytics
YuMuuv, for his part, does additional analytics and summaries so that the employer can see which employees were active. In addition, it is a great input around which to shape marketing messages and improve the image of the company as a whole.
5. Cheerful Employees
Once the plank challenge has been completed and the best recognized, it is certain that all participants will be satisfied that they took part in the challenge and promoted their health through it. This is a great prerequisite for creating positivity in the work team.
Features
Everything you need to take on one successful plank challenge.
Onboarding and customer support
For our part, we ensure that every user can easily create an account through YuMuuv. Our support team is also there to help with any problems during the challenge.
Unlimited challenges
With our application, you can take any challenge and any number of challenges at once.
Personal progress view
Everyone can access their personal progress view to see their progress and advancement in activity.
Chat
The chat feature allows users to interact with each other on the platform during a challenge and exchange moody images and experiences.
Groups and countries
YuMuuv offers a great opportunity to challenge not only between individuals, but also between departments, groups or countries across the workforce.
Data export
We have created a separate export button that allows admin users to access all challenge data with just one click. In addition, we also offer special solutions for long-term customers.
Co-branding
If you wish, we will put your company logo in our application, which will create an even more personal experience and connection with your company during the challenge.
Program management
If you are interested in handing over the administration of the program to the YuMuuv team, we will be happy to do so. This also ensures long-term success in health promotion.
Advanced analytics
If some clients want to get more detailed analytics about the activity of their employees, we offer separate statistics.
User management
This feature allows the Admin user to delete users and change the associations associated with these groups.
Monthly activity report
We issue a monthly report on the data of the previous month's active employees and the team as a whole. We also reflect changes over time.
Multiple companies support
Whether you're in one or more companies at once, you can always do it with one YuMuuvi user without the hassle of profile changes.
Device integrations
Our app allows you to integrate your sports or smart watch data directly into the challenge. This eliminates the need to enter steps, calories and minutes manually.
User created challenges
All YuMuuv users can create their own challenges and invite up to 10 people to join them.
Manual entry
The ability to enter data manually improves the ability to challenge even those actions when the devices themselves are not reading the data.
Annual planning with YuMuuv team
If you decide to become YuMuuvi's annual customer, we offer you ideas on how to furnish a whole year with different challenges.
Multiple languages
The YuMuuv app is available in 32 different languages worldwide on the App Store and Google Play Store.
Company ranking
We have created a unique solution so that you can compare the position of your company compared to other similar companies.
YuMuuv is compliant with GDPR and CCPA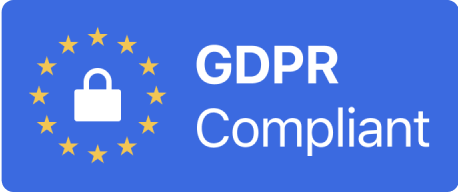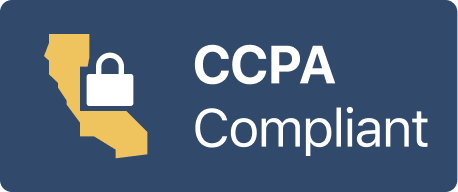 Organize Additional Challenges For Free
Want to take on more challenges? YuMuuv offers you an unlimited number of challenges for the duration of your stay at no extra charge. Here are some examples of challenge types you can use.
Movement that is affordable for everyone! This is why it is so easy to organize the walking challenge at YuMuuv in a motivated way.
In companies where running is already an important part of the game, it is even more possible to prepare participants for a joint marathon experience or to participate in another national sporting event.
Cycling is a great way to replace the car with a healthier alternative for short distances. It raises people's environmental awareness and introduces good habits.
Swimming challenge
As one of the basic skills, the challenge of swimming is not only activity that increases activity, but also activities that maintain human life. This can be done in a form that adds joy and freshness to those who do not have the basic swimming skills.
Activity challenge
In an activity formula challenge, a participant can gain activity through a wide variety of activities, not all of which are necessarily related to sport. This will further increase involvement.
Challenges based on the duration of the training time help participants to easily log the time of any training activity and thus participate in the challenge. This gives each participant the opportunity to engage in the activities that speak to them the most.
Distance challenge
This challenge allows you to collect miles or miles traveled in different modes. This works especially well when targeting a specific distance.
Outdoor challenge
This is a great way to help employees with an otherwise sedentary lifestyle to invest more in being outdoors and moving around. Each participant can log the number of minutes he / she spends outdoors.
Group challenge
The group challenge is an opportunity to compare which team has the best average score. It is also possible to simply collect the amount of activities. What is certain, however, is that during this type of challenge, the team's sense of unity grows.
Collective challenge
A challenge in which participants work together to achieve a central goal. It is also a good opportunity to turn the achieved goal into a good thing for society.
Consistency challenge
This is a specific type of challenge in which the continuity of the participants in a particular activity that is currently being used in the challenge is important.
Companies challenge
If you want to aim to challenge a specific company, our company ranking works well, so you can regularly monitor whether and from whom you are ahead.
This is your opportunity to organize an easy-to-join challenge for anyone who is willing to move. Counting steps is contagious, especially if it is done together with others.
Through balance, focus, and a variety of yoga practices, a company can turn a yoga challenge into a part of a team culture through a health-promoting balance.
Meditation is something that promotes the mental health of employees. Creating a challenge in this activity increases an employer's confidence that his or her employees are healthy.
Focusing on adequate sleep helps keep employees productive and happy. Organizing this challenge is a breeze. Everyone can log their sleeping hours into the app.
Regular water intake is necessary to keep the body hydrated. The challenge of drinking water or fluids, which improves the well-being of workers, is well suited for this.
Custom challenge
Challenge of free choice provides unlimited possibilities to take on a challenge wherever you want. This means that you can choose the type, unit of action and purpose.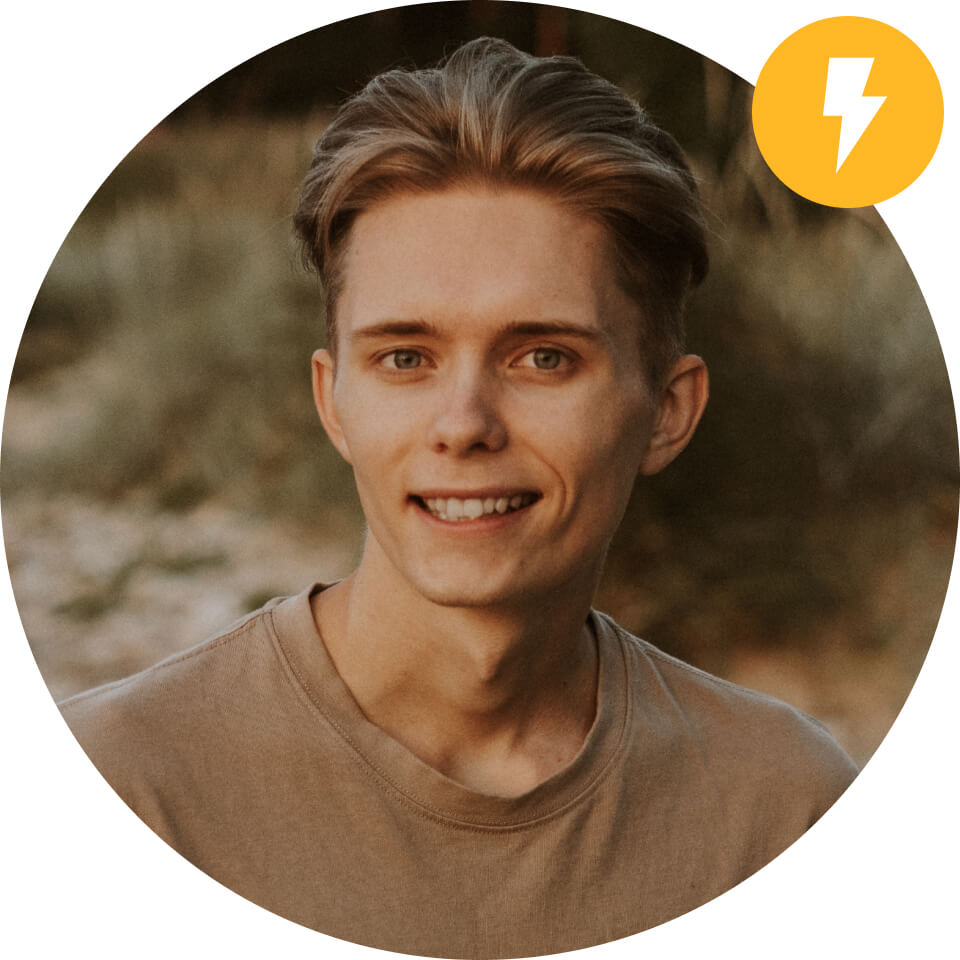 Need additional information?
I'd love to answer all your questions and ensure that your team can start with just the kind of challenge that makes your employees happy and engaged.
Andreas Ait
Customer Success Manager
Book a demo