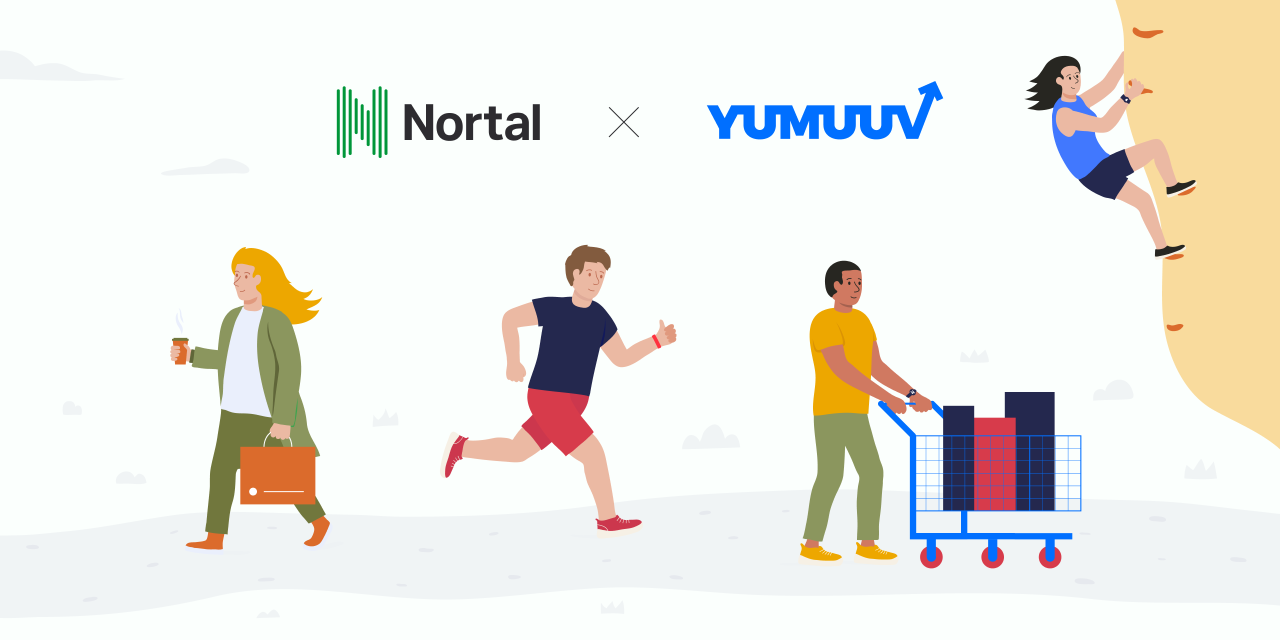 How a Challenge Can Increase Employee Engagement?
In the last year, we have seen the walls of our homes more than ever before. The computer screen has brought meetings to our homes day after day, but how can we virtually build strong teams in a company to increase employees' engagement during these days?
We know a company that can teach us that - Nortal. Nortal has done a lot to build motivated teams in different countries uniting them as a whole company-wide team through active lifestyle challenges. We had a chance to talk with Nortals' (Virtual) Event Manager Katre Trei, who explained to us how they have done it.
A Company That Is Focusing on Creating Meaningful Impact
Nortal has presented itself to the world as one of the leaders in developing and simplifying the digital bubble all around us. Their teams are building a world where everything works smoothly with no unnecessary disruptions and bureaucracy, leaving time for things that truly matter to people. They think big, redefine the future and execute it.
They are changing the world around us by helping to develop cutting-edge solutions for governments, healthcare institutions, and businesses, some of which are leading the Fortune 500 list. All that in 32 teams from 8 different countries - including Estonia, Finland, Germany, Lithuania, Oman, Serbia, United Arab Emirates, and the United States. This global team leads us to the question: How can a worldwide company provide an active environment that makes teams healthier and more motivated when they even can't physically meet?
Active Lifestyle as an Employee Benefit
If you think about the most valuable employee benefits that your employer can provide, what would they be? Nortal has the aim to cover all the basics and much more in terms of employee benefits. For a long time, they have turned their heads towards something that improves employees' everyday lives - a habit to be active. They have found that physical activity initiatives are indeed a good way to build stronger teams, where people hype each other, share good practices, and notice each other's efforts.
For example, we now have employees who are doing meetings whilst walking around instead of sitting home.
In addition to YuMuuv's challenges, Nortal is promoting an active lifestyle through many self-organized activities. They have competed in skiing and cycling, and now in May, their annual Nortal Championship has just launched. You're asking how they are doing it? Katre opened the locker box for us.
Challenge, Where It's Easy To Participate
Nortal has done a lot in its 20+ years to show employees what they are physically capable of. "We have done different activity challenges with Endomondo in the past. Now, when it's left the market, we chose YuMuuv as it seemed very easy to be used."
YuMuuv platform is built to empower the teams of our partners. We don't fight for your employees' attention and do concentrate only on the most important. Nortal is on the same paper as us. "The platform must look clear and esthetic, that way people are more eager to participate in the challenges and pop in to check the results. Through that employees are more connected with their teammates, other colleagues, and with the company itself. It leads to a more relaxed environment and people feel that even when they can't be with their colleagues, these steps are not walked alone."
The other thing, why we chose YuMuuv, is because we wanted to create a challenge, where it's easy to participate. For walking, you don't need any extra equipment so everybody can easily participate.
Walkaholics Not Workaholics
So what happens when a company values an active lifestyle? Dogs will have more walks and the owners will lose weight, even lobster costumes will have a dance on the bridge when somebody loses a bet with a teammate, but most importantly - employees won't be Workaholics, but healthy Walkaholics in truly connected teams.
Join the Challenge
We are thankful to Katre Trei for the chat! We believe that with YuMuuv, falling in love with physical activity is easy. Companies can help boost self- and team motivation with a mere push. Embracing hobbies, promoting sporty freedom, and letting the snowball effect raise healthy habits, are part of a great formula to create super-employees.
If this story inspired you to try YuMuuv at your company, don't hesitate to request a free demo.