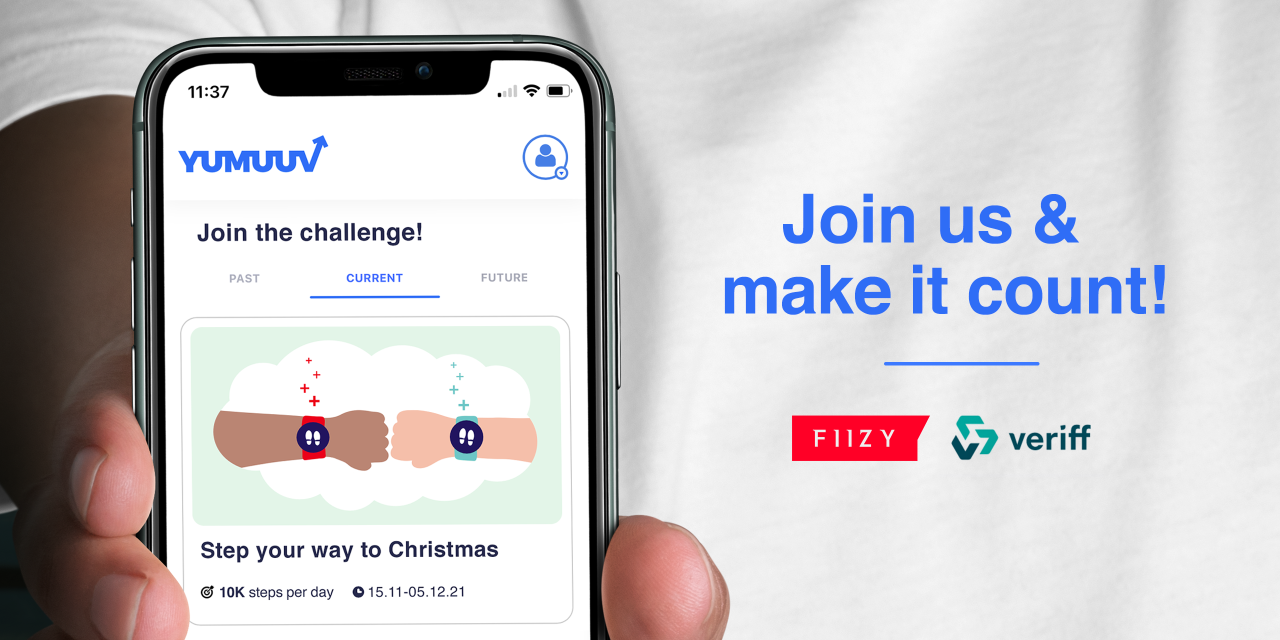 Join the challenge: Step your way to Christmas!
Christmas is right around the corner. Yes, every year it feels like it starts earlier and earlier. Why now? Because good things need time to happen, and we want to get ahead. With you. Now.
The jolliest time of the year often comes with the stress around the ideas for corporate gifts for clients, partners, and employees. Let's be honest. We could all do with less worrying and also a more sustainable view on that. Fiizy, Veriff, and YuMuuv want to challenge that status quo and invite you to join in by doing some good this year!
Instead of doing your regular gifts this year, we invite you to join us in supporting an initiative that impacts the most valuable asset - education. Contribute as your company can and wish. What works for you and your team! However, before that we invite you to accept a small challenge with us as well to put all that time to healthier, happier, and more thoughtful use by getting outside from your (home)office in this somewhat dark November and getting those steps in.
What do steps have to do with supporting an initiative? Because we believe that getting outside and moving brings good ideas, and who doesn't love a good challenge just for the sake of it! The more people from your team, the bigger the count and hopefully the more significant our impact.
How you may ask?
We challenge your team to join our YuMuuv challenge and make at least 10 000 steps (per team member) every day for 3 weeks: November 15 - December 5. From the app you can compete and see other teams who have joined the challenge as well! Fun!
Who to support?
Who and the size of contribution is up to you! We hope that the more of us contributing the bigger the impact is. We have been mentoring and contributing to initiatives that impact youth and education - creativity accelerator Vivita, and girls technology program Unicorn Squad who need equipment for prototyping, modeling, and coding.
How to join us?
Reach out to YuMuuv to join your company with their platform. You can join throughout the challenge, but we recommend that you do that before November 15th. It is a team challenge – you can't join as an individual performer. Fee for this challenge is 42 € (one time fee for these 3 weeks) plus an additional 4 € per employee. 
Registration form
If you have any questions or ideas, let us know:
Claus-Kennerth Tikki, claus.tikki@yumuuv.com
Make it count!
Your friends from Fiizy, Veriff and YuMuuv