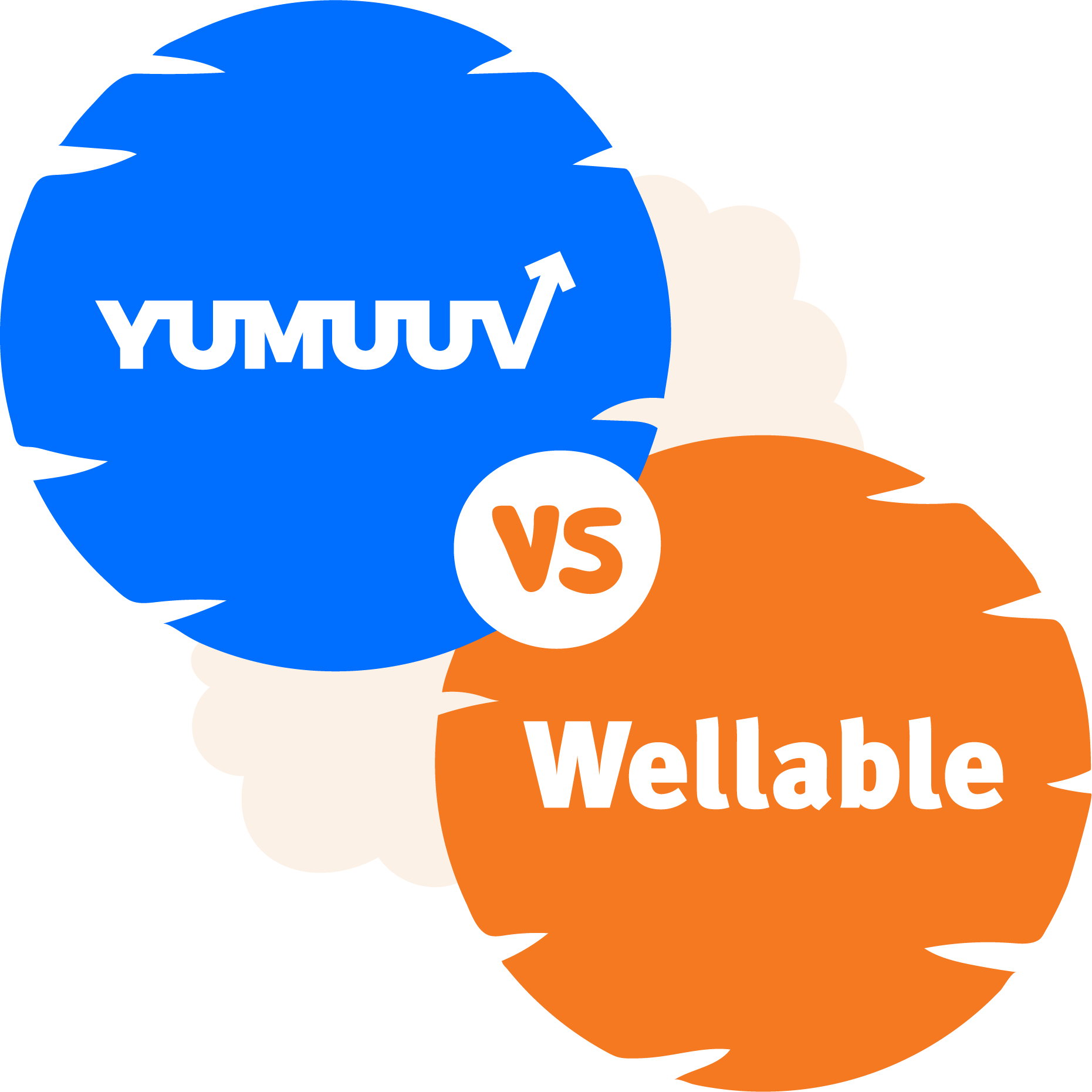 YuMuuv vs Wellable
Based on the fact that companies want personalized solutions when it comes to employee engagement, it's unfortunate that some wellness program providers are charging 10x more for a personalized success manager.
That's why some Wellable clients are turning to YuMuuv, which offers a human touch with a human price, providing a personalized approach to wellness with a range of tailored services and excellent customer support.
YuMuuv is an easy-to-use, cost-effective and engaging wellness challenges platform. YuMuuv offers program planning and management with co-branding without additional cost despite which plan the customer chooses.
Wellable is a wellness program provider that offers a range of wellness services to businesses of all sizes. According to their website, their single challenge full-service packages start from $5,000.
YuMuuv vs Wellable

| Features | YuMuuv | Wellable |
| --- | --- | --- |
| 1. Full Service Price for Long-Term Use | Starting from 60$ | Starting from 1000$ |
| 2. Full Service Price for Projects | Starting from 999$ | Starting from 5000$ |
| 3. All challenge types (including custom) | | Only with Full Service packages |
| 4. Custom challenges with amount | | |
| 5. Chat | | |
| 6. Push Notifications | | |
| 7. Device integrations | | |
| 8. Program planning | Free (for annual use) | Only with Full Service packages |
| 9. Program management | Free (for annual use) | Only with Full Service packages |
| 10. Companies leaderboard | | |
| 11. User created challenges | | |
| 12. Belong to multiple companies | | |
| 13. Announcements | | |
| 14. Heart rate data | | |
| 15. Rewards distribution | | |
| 16. Multilingual | 32 languages | English only |
| 17. Single sign on | Free (Google Workspace) | Only with Full Service packages |
| 18. Co-branding | Free (for annual use) | Only with Full Service packages |
5 reasons YuMuuv is the best MoveSpring alternative
Innovative Technology
YuMuuv uses innovative technology to deliver its wellness programs, including a user-friendly mobile app and a virtual wellness platform. This enables employees to easily access the program and track their progress from anywhere, at any time.
Personalized Approach
YuMuuv offers a highly personalized approach to wellness, tailoring their programs to the specific needs and goals of each organization. This ensures that the program is relevant and effective for each employee, leading to better engagement and improved health outcomes.
Proven track record
YuMuuv has a proven track record of delivering successful wellness programs to businesses of all sizes. They have worked with numerous clients across different industries and have received positive feedback on the effectiveness of their programs.
Excellent Customer Support
YuMuuv provides excellent customer support to ensure that clients receive the best possible service. They offer a dedicated customer success team to guide clients through the entire process and address any concerns or issues.
Affordable Pricing
YuMuuv's pricing is more affordable compared to Wellable, making it accessible to smaller businesses and startups with limited budgets. They offer a range of plans to suit different needs and budgets, without compromising on the quality of service and support.
User Stories
"A wonderful experience. Gives a great sense of motivation & competitiveness in engaging a group of people. Highly recommend the app for its super friendly use & wonderful team that is very helpful."
Taha Mirza
Read the case study
"YuMuuv makes organizing wellness challenges easy for companies with a global footprint across multiple countries and departments, making it fun and challenging for everyone."
Janhavee Walvadkar
Manager, Global HR Processes & Systems,
PharmaLex
Read the case study
"We wanted to create a challenge, where it's easy to participate ... People feel that even when they can't be with their colleagues, these steps are not walked alone."
Katre Trei
Read the case study