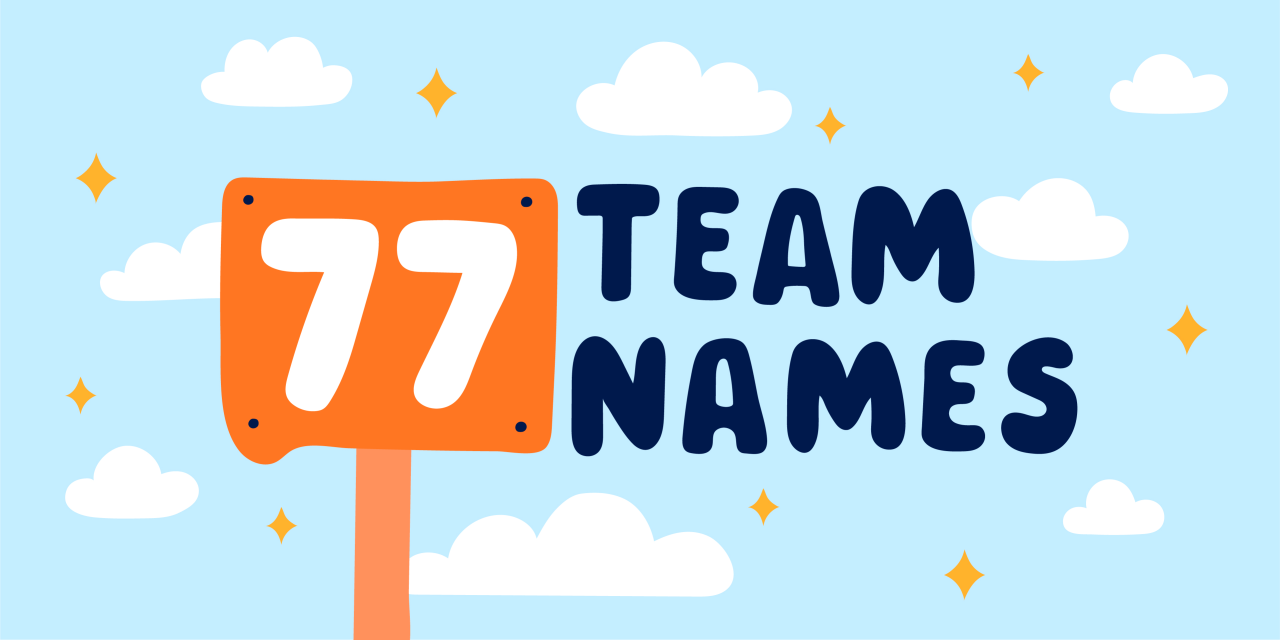 77 Walking Team Names for Your Next Challenge
Did your employer organize a fun walking challenge? Do you have a team? But lack a cool and outstanding team name with which to defeat all opponents? Don't worry, we got you! 
Building a team and thinking of a name is one of the exciting stages of participating in the challenge. Everyone wants to stand out and start rocking with a cool team name. The name can be as unique as you want. Since there are many options, sometimes you can get overwhelmed and not be able to make a choice. We'll share some inspiration and introduce you to some great names that could be just right for your team. 
When choosing a name, you can take inspiration from everything, whether it is your favorite movie or song, an actor or even your favorite food. 
 
Image

Walking Team Names from Movies and Music
Here are some examples of how to add a little twist to the title or phrase of your favorite song, movie or TV show and get a cool team name for your next activity challenge.
 

| | |
| --- | --- |
| These Boots Are Made for Walkin | Say Yes To The Legs |
| Every Step We Take | My Walks Brings All The Boys To The Yard |
| Moves Like Jaggers | Netflix and Chill |
| Charlie's Ankles | Johnny Step |
| Top Guns | 22 Walk Street |
| Luke Skywalkers | Walking on Sunshine |
| Walk DMC | On the Road Again |
| Wonder Walkers | Die Lard |
| 1 Forrest 1 | Mission Slimpossible |
| The Walking Dead | Dead Men Walking |
| Walk With Me, One More Time | Fit Avatars |
| Rolling Toes | Walk The World (Girls) |
|   |   |
Image

Walking Team Names Inspired by Food and Drink
Food can be a great source for team names that anyone can relate to. Bringing a smile to everyone's faces. 
| | |
| --- | --- |
| Scrambled Legs | The Holy Walkamolies |
| Tomato Heads | Will Run For Snacks |
| Chasing The Ice Cream Truck | Champ Pain |
| Taco Del Awesome | Cherry Blossoms |
| Cupcakes Anonymous | Going, Going… Scone |
| Easy Cheesy | Road Kill Grill |
| The Chicken Legs | Glucose Patrol |
| Loose Noodles | Coffee Runs |
| The Cereal Killers | Break Bread Then Tread |
| Kale Blazers |   |
Image

Even More Walking Team Names
If you or your teammates don't have a favorite food or beverage to get inspired from, don't worry. We share with you some cool names that you can take into use. 
 
| | |
| --- | --- |
| Kill-o-meters | The Fit, The Fat, And The Funny |
| Too Stupid to Stop | Spongebob Slowpants |
| The Leg Flexers | PM Walkers |
| Too Inspired to be Tired | Chicks With Kick |
| What you walking about? | Together We Perspire' |
| Walking Talkies | Shoes or Lose' |
| Are We There Yet? | The Office HeRoes |
| No Ubers In Sight | The Lazy Gang |
| Cheers To Healthy Hearts | Walking IS a Sport |
| Ready, Set Walk | Too Hot to Trot |
| The Team Who Must Not Be Named | Tread Team |
| Working Bees | Starting Slow, Getting Slower |
| The Galloped Potatoes | Snooze & Shoes |
| Pavement Princesses | The Naughty Steppers |
|   |   |