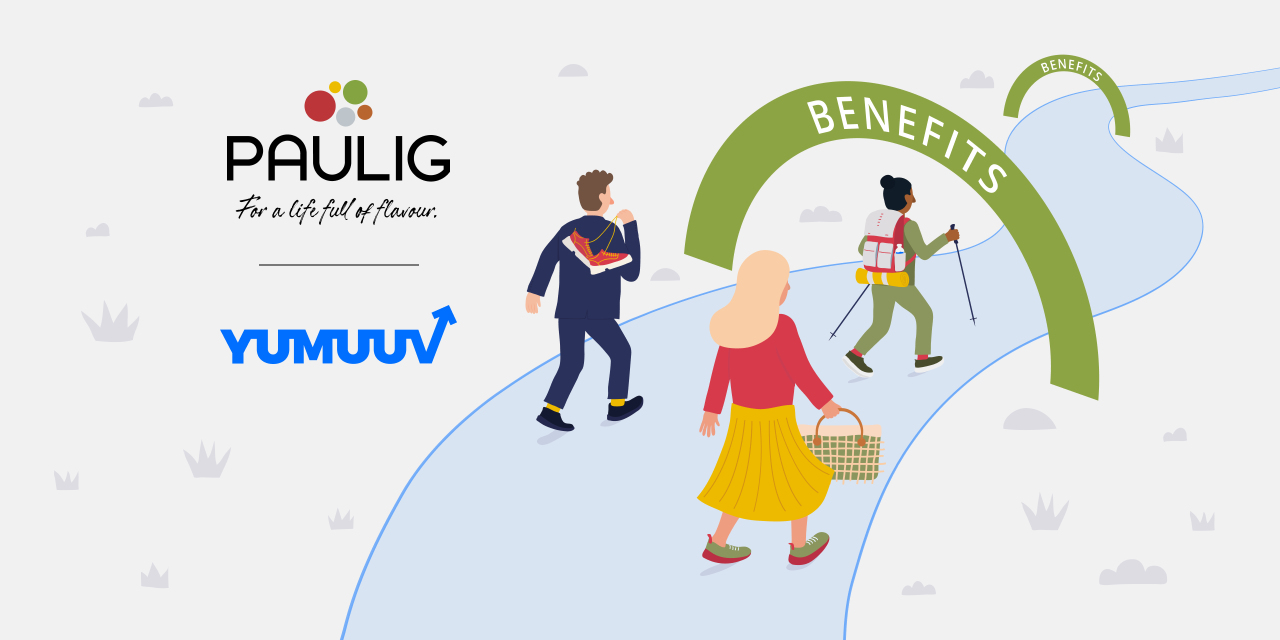 How Paulig Group Unites Their Team at Work?
One of the biggest challenges facing businesses of all shapes and sizes during this pandemic is successfully maintaining productivity and team culture while most of the employees are working remotely. How do you keep the employees happy and engaged in times of change and turmoil?
We chatted with Katerina Muhel, Human Resources Manager at Paulig Group, to understand what tools they use to take care of their employees, the challenges they have faced, and how they were able to build a strong team culture together with YuMuuv.
More Than Just a Coffee Company
Many might recognize Paulig as a coffee company, but nowadays Paulig Group is much bigger. Paulig provides a life full of flavor with high-quality products such as coffee, food concepts, spices, plant-based choices, and snacks. Their portfolio includes strong brands such as Paulig, Santa Maria, Risenta, Gold & Green, and Poco Loco, but it is much more than just a taste experience. It comprises responsibility for the wellbeing of both people and the environment as well as their way of working. 
They are the front runners of growing a new sustainable food culture that is good for both people and the planet while never compromising taste and ease. At Paulig, they offer reasons for people to come together and experience genuine bonds with one another.
Looking for Ways To Unite Teams
As a Human Resource Manager at Paulig Group, what was the problem that motivated you to find the solution that YuMuuv ultimately helped to solve?
We understand that providing life full of flavor and integrating sustainable culture starts with the heart of the company- our people. We have about 2,100 employees in 13 countries, we have several initiatives to bring our employees together for wellness and engagement.

We wanted to be able to unite teams in the Baltics that otherwise wouldn't connect and communicate outside of the work atmosphere.  For example, a sales representative from Kaunas could motivate a coffee technician from Šiauliai and a production worker in Saue to step up and make their daily step goal a priority. 

Also, our major challenge was getting employees to move who weren't very active or consistent with physical activity. We've all got a habit of slipping into the laziness mode but the opportunity for individual challenges and tiny consistent improvements every day gives the employees the feeling of progress and achievement that gets them moving regularly.

Before YuMuuv, we were looking for ways to unite teams and create a strong team culture with healthy lifestyle choices. This meant finding a way to easily manage and ignite engagement through building better habits.
Finding the Solution That Fits All People From Different Backgrounds
What other options did you look at before you chose YuMuuv?
We tried Endomondo last spring, considered Strava and MapMyFitness, but these platforms counted mostly cycling and running distances. We wanted something for everybody regardless of the activity level or performance goals. Yumuuv helped us to motivate and engage all people from different backgrounds.
Challenging Employees To Get Active, Together
What impact has YuMuuv had on Paulig Group's engagement and physical activity promotion efforts?
Because of YuMuuv and these activity challenges, our employees are inspired to walk even on rainy days. It's the fun approach and support from the community that makes healthy habits pay off.

Our teams also loved that they could see each activity and member on a leaderboard. The YuMuuv's green line indicator feature that lets you know if you stay on track with your goal motivated many to be consistent and step up a little more every day, thus, giving them their way to make it to the top.

Participants moved from their desks more throughout the day, they even started using virtual #coffeebreaks and #walkingmeetings as a way to be more active. A Key Account Manager from Estonia was surprised how much he could do without a car, so he opted for walking over driving and inspired others to do the same. Some employees started to walk early in the morning to get their engines running and mind straight for work. YuMuuv made it easy to be active and vital without needing to go to the gym or aerobics class.

There's always somebody who has fallen off track with physical activity and YuMuuv added a fun yet simple approach to get them engaged and moving again without any judgement. We're glad that we got our people moving with YuMuuv!"
– Katerina Muhel, Human Resources Manager at Paulig Group.
Join the Fun
We are thankful to Katerina Muhel for the chat!
We believe at YuMuuv that it just takes a little push from the company's side and the initiative generates a snowball effect for building good habits and, thus, better health and resilience to cope with stress. 
If this story inspired you to try YuMuuv at your company, don't hesitate to request a free demo!