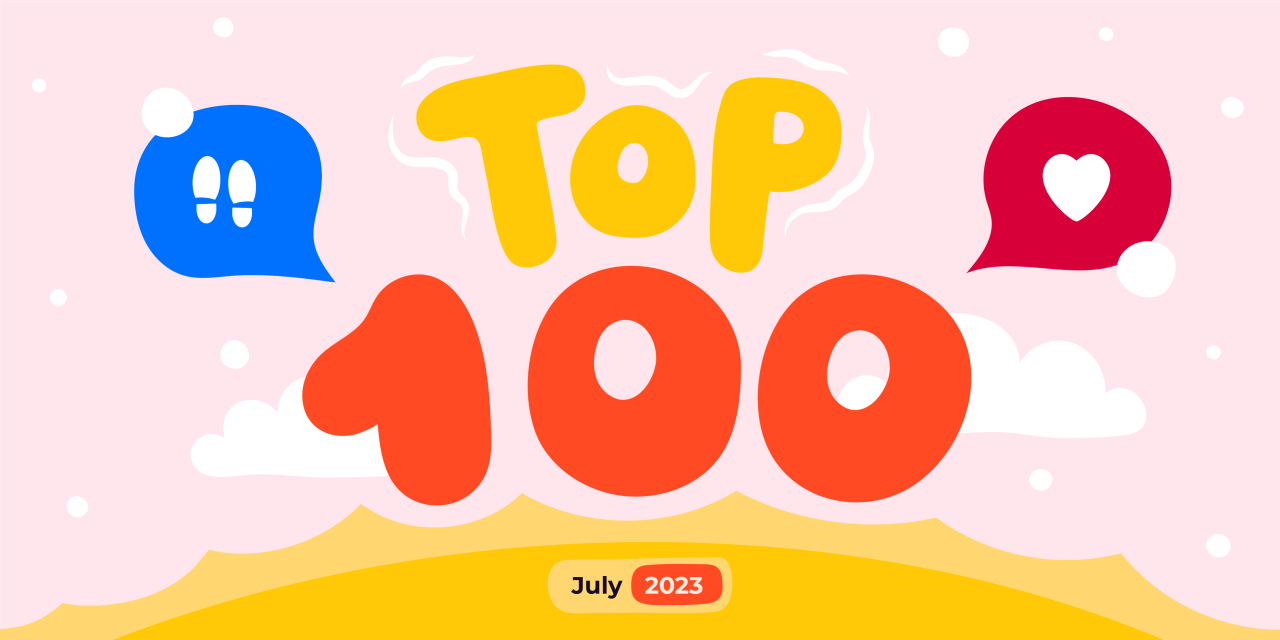 Top 100 Most Active Companies - July 2023
We are excited to present the July Top 100 most active companies on the YuMuuv employee wellness challenge platform. These companies have showcased remarkable dedication in fostering a culture of health and wellness among their employees. Regardless of their size or industry, their commitment to enhancing employee well-being stands out. We hope that this list serves as an inspiration for you to integrate and prioritize wellness initiatives within your own workplace.
It's crucial to understand that our July Top 100 ranking relies exclusively on the data available within our app. There are numerous companies that might be actively involved in wellness endeavors outside our platform, and such efforts are not included in this list. In order to provide a more holistic picture of corporate wellness, we are in the process of introducing additional metrics, such as the most engaged, most active, and most advanced lists. These forthcoming metrics aim to recognize and commend all companies, irrespective of their interaction with our app, for their unwavering commitment to enhancing employee wellness. Do stay connected with us for future updates on these metrics. Meanwhile, delve into the list below to discover which companies have been featured in the July Top 100:
Top 100 Most Active Companies
MyFitness
Kraken Technologies
PayPal
Axonista
C&C
Funderbeam
ASA Quality Services
Prisma
Zevia PBC
Mapletree
IPA
Procede Software
Bright!Tax
Outdoor Journal Tour
Infragate
Stoneridge Electronics
Kohila Vineer
Signicat
Kliinikum
NinjaOne
Equitybee
Linde Gas Bulgaria
Heat Consult
Viru Keemia Grupp
KK Rae Koss
Spin TEK AS
MyFitness Latvija
HKScan Baltics
Bolay
Syntropy
Tallinna Strateegiakeskus
Super Rod Ltd
Bonava
Lewis Golden
Tartu Ülikooli Kliinikum
Metrosert
Cinemo
Bestway Grupp
Tickmill Eesti
Derivco & Games Global
3M
Go3
Growens
Interlex
Sonepar Eesti
Grinds Coffee Pouches
Otepää Sport
Linde Gas
Shell CEE Finance
Adven
Tickmill
Swedbank Latvia
Puhastusimport
Summit Leadership Partners
Azets
AutoHalle
ABB
Vidyard Journey Teams
AS Semetron
Yusen Logistics
Domus Kinnisvara
Tartu Tamme Gümnaasium
Nortal
NLB
Bolt
Pan ponosni pokrovitelj rekreativaca
Ericsson Eesti AS
Genius Sports
Ettevõtluse ja Innovatsiooni Sihtasutus
PHOENIX CONTACT
Agrone
Boundary Waters
Fujitsu Estonia AS
Grant Thornton
Survivors of Bereavement by Suicide
Swedbank
Commonwealth Equipment
TEAM Weston
6Connex
Nobel
rPlus Energies
Sisekaitseakadeemia
Hitachi Energy
Mitiska REIM
SYNLAB
Haapsalu Sotsiaalmaja
Pro Optika
carVertical
Bloomreach
RingIT
Coffee Address Active
Prokura, a Kearney Company
Piab
ARW Engineers
BCV Asset Management
SK ID Solutions
Causaly
Coffee Address Steps
Directo
People-In-Motion
Summary
In our latest edition for July, we're thrilled to showcase the top 100 companies leading the way on YuMuuv's employee wellness challenge platform. Representing diverse sectors and regions, these entities have showcased an unwavering emphasis on the holistic well-being of their teams. A hearty congratulations to each of these frontrunners! We hope their commendable efforts inspire more organizations to prioritize and champion employee health and wellness.
Don't miss our curated articles emphasizing the myriad health advantages of reconnecting with nature, coupled with invigorating wellness challenges to infuse vitality into this spring. We urge you to tap into these enriching insights. Stay engaged with us - our upcoming newsletter promises more enriching glimpses into the dynamic realm of employee wellness!